11 Amazing LEGO Star Wars Sets You Can Buy Right Now
Bethany Clarke, Getty Images
In the late 1990s, LEGO made a decision that would change the fortunes of the company. After years of resisting the idea of producing LEGO merchandise based on licensed characters, LEGO agreed to its first-ever licensing deal, partnering with Lucasfilm in 1998 to issue Star Wars sets. The response was so enthusiastic that LEGO soon sought out arrangements with Disney, Marvel, Harry Potter, and other properties, too. Sales skyrocketed, and LEGO reestablished itself as a cultural phenomenon.
To celebrate the 20th anniversary of those first sets released in 1999, LEGO is re-issuing a number of its classic Star Wars creations from that era. Each of these anniversary sets come wrapped in retro packaging and include a replica of one of the original Star Wars minifigures that debuted at the turn of the millennium.
The commemorative sets join a vast library of collectible Star Wars-themed releases from the past two decades, many of which have only increased in value over the years since they were first released. Here's a sampling of the best LEGO Star Wars sets you can buy right now to satisfy your itch for a trip to a galaxy far, far away.
1. Slave I 20th Anniversary Edition Set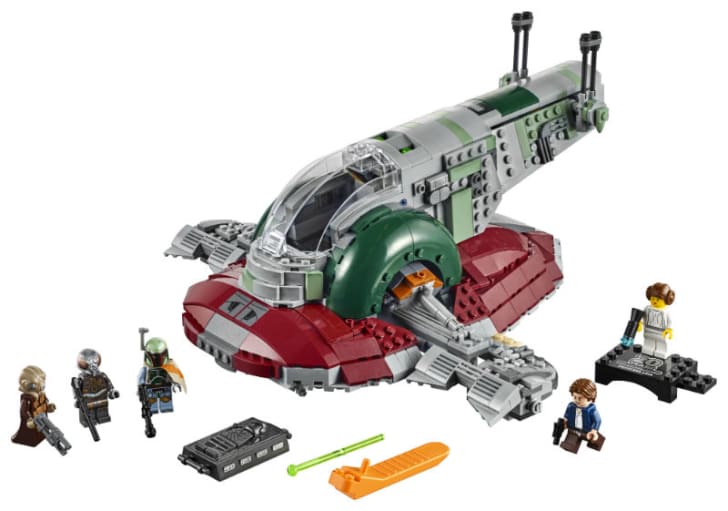 In 1980's The Empire Strikes Back, merciless bounty hunter Boba Fett scans the vast reaches of space for Han Solo in his now-iconic ship, the Slave I. This 1007-piece LEGO set includes Fett and his prize—Solo frozen in carbonite. It also comes with a copy of the original Princess Leia minifigure first released in 2000.
Buy it from the LEGO Shop for $120.
2. Death Star Escape Set
Stalk the corridors of the Death Star in this 329-piece playset that features Luke Skywalker, Princess Leia, and a Stormtrooper. Two sections allow for a nimble escape, with Luke using a grappling hook (included) to swing to safety.
Buy it on Amazon for $25 or from the LEGO Shop for $30.
3. Darth Vader Transformation Set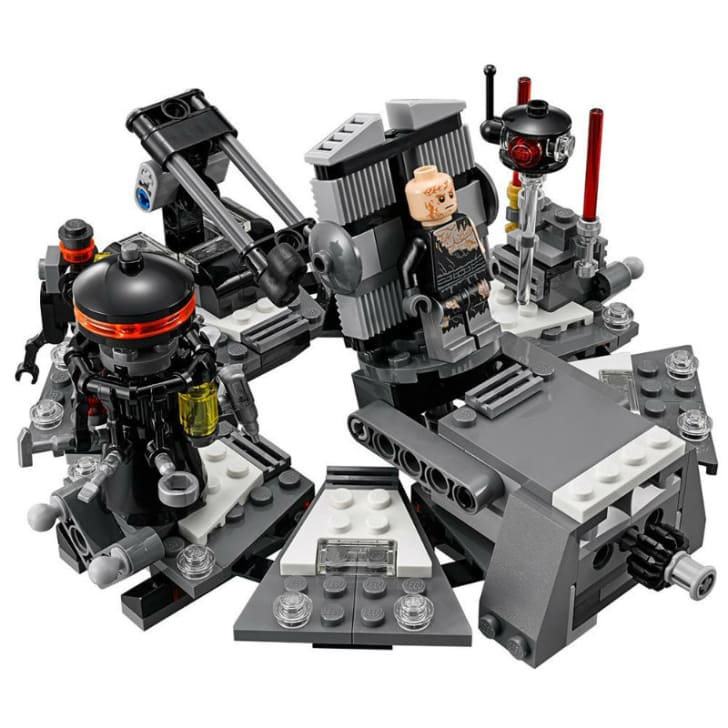 Perform some LEGO slight-of-hand with this playset that allows you to transform a lava-scarred Anakin Skywalker into his final form: the villainous Darth Vader. A table flips to perform the reveal, while a slide lowers to encapsulate his hideous visage in a helmet. The 282-piece set comes with minifigures of Anakin, Vader, and two medical droids.
Buy it on Amazon for $15 or from the LEGO Shop for $25.
4. BB-8 Set
The breakout star of 2015's The Force Awakens gets his LEGO due in this 1106-piece set. The LEGO BB-8 doesn't roll, but his head swivels and he stands an imposing 9 inches tall.
Buy it on Amazon for $79 or from the LEGO Shop for $100.
5. Ultimate Millennium Falcon Set
The fastest ship in the galaxy might just be LEGO's Star Wars masterpiece. A number of Falcon sets have been released over the years, with some commanding premium prices on auction sites. This recent release consists of 7541 pieces, seven minifigures, and a detailed interior layout.
Buy it on the LEGO Shop or on Amazon for $800.
6. Imperial TIE Fighter Set
Use Rebel scum as target practice with this detailed, 519-piece rendition of the Imperial pilot's favorite weapon of destruction. A young Han Solo is among the stowaways.
Buy it on Amazon for $50 or from the LEGO Shop for $70.
7. First Order Star Destroyer Set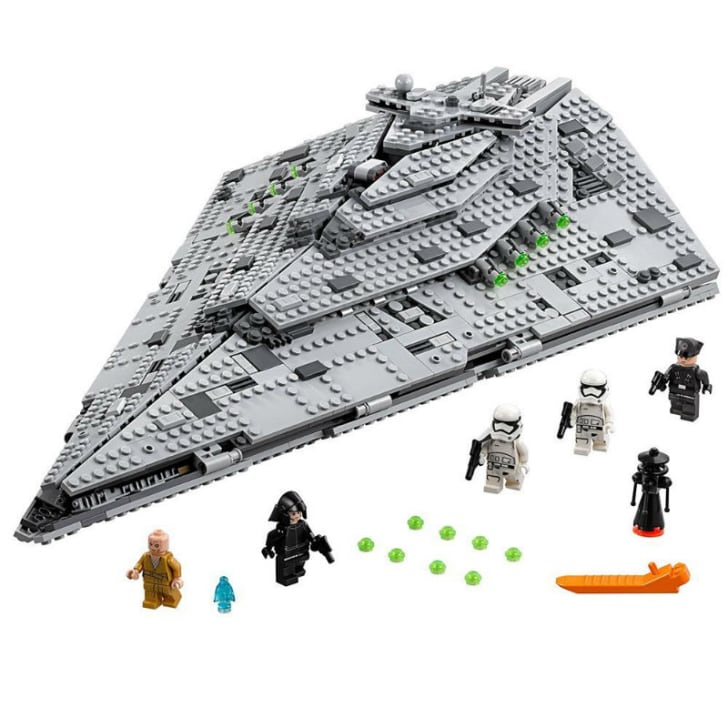 Pursue dissidents in this massive 1416-piece set that features a control room, elevator, and a carrying handle. Supreme Leader Snoke and four other minifigures are included.
Buy it on Amazon for $157 or on the LEGO Shop for $160.
8. Ewok Village Set
Recreate the "Yub Nub" celebration with this highly detailed, nearly 200-piece set that offers everything you love about the Ewoks. Their treetop hideaway features secret hideouts, traps, and catapults. You also get 17 minifigures, including Ewoks Wicket, Teebo, Chief Chirpa, and Logray. LEGO lists this product as retired, but it's still available on Amazon—for a steep price.
Buy it on Amazon for $405 or at one of the retailers below:
9. Poe Dameron's X-Wing Fighter Set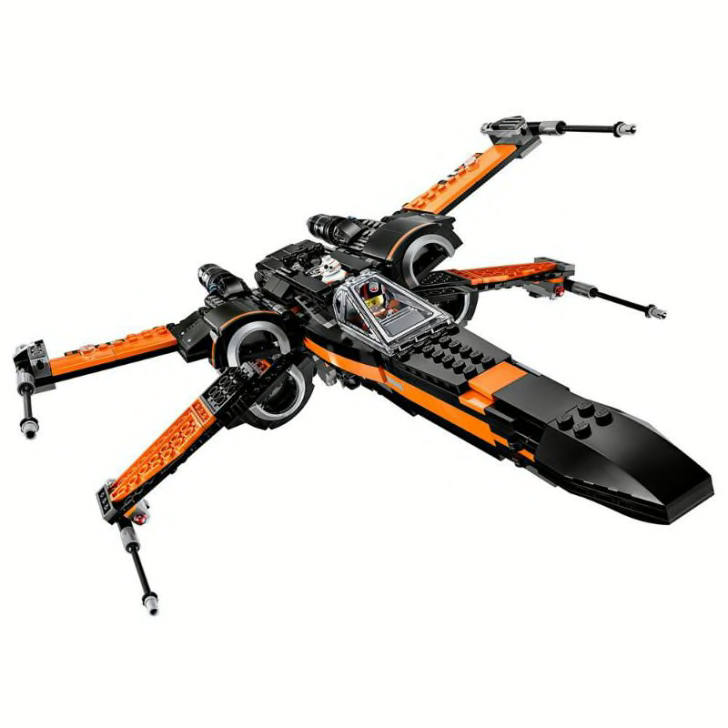 In the The Force Awakens and The Last Jedi, rogue pilot Poe Dameron handles his X-Wing like a classic car weaving in and out of traffic. The 717-piece LEGO version has four spring-loaded shooters, wings that open, and a cockpit for the minifigure Poe (also included).
Buy it on Amazon for $105.
10. Snowspeeder 20th Anniversary Edition Set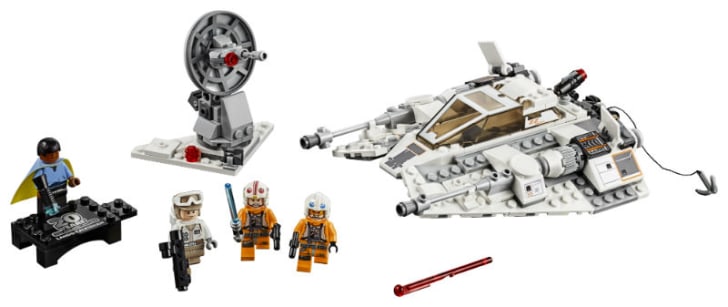 The Snowspeeder, Luke's transportation of choice on Hoth, is the inspiration for another one of LEGO's big anniversary releases. Spring-loaded shooters allow you to blast Empire goons while a harpoon lets you envelop the clumsy appendages of the AT-ATs. The shuttle is made up of 309 pieces and comes with a collectible Lando Calrissian minifigure from 2003 on a display stand.
Buy it from the LEGO Shop for $40.
11. Death Star Set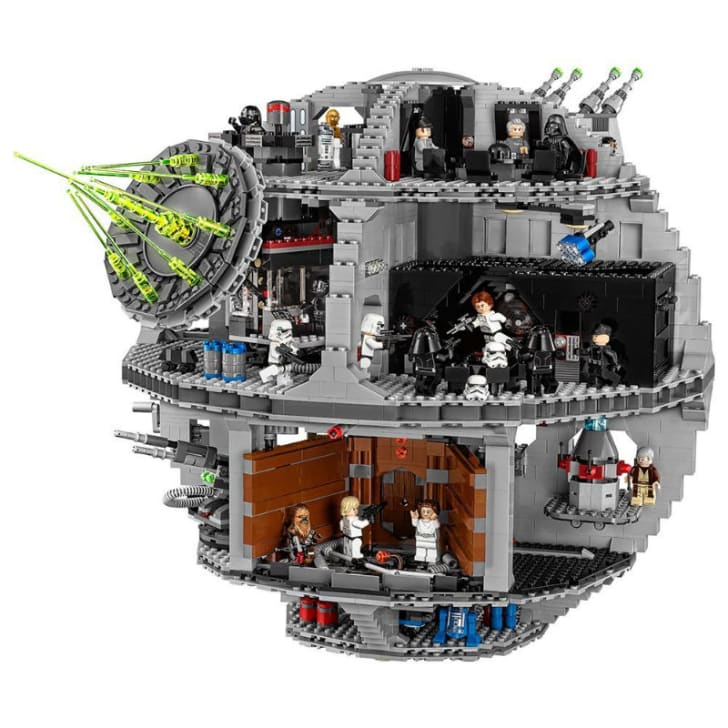 The planet-destroying weapon comes to life in this massive 16-inch-by-16-inch playset made up of over 4000 pieces. Several rooms—including cribs for Vader, the Emperor, and a detention block—allow you to recreate scenes from the classic trilogy. There's even a trash compactor in the event you want to treat Luke and his friends to a smashing good time.
Buy it from the LEGO Shop or on Amazon for $500.
Mental Floss has affiliate relationships with certain retailers and may receive a small percentage of any sale. But we choose all products independently and only get commission on items you buy and don't return, so we're only happy if you're happy. Thanks for helping us pay the bills!