11 Amazing Gifts for the Beer Geek in Your Life
The beer lover in your life doesn't need another hilarious "Will Work for Beer" t-shirt this year. Instead, get them one of these amazing brewtastic products.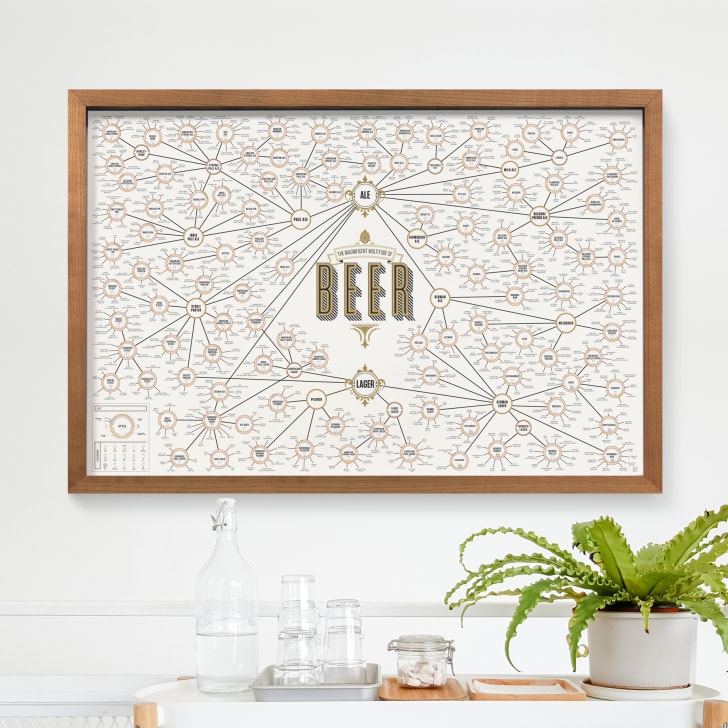 It can be hard to find tasteful home décor that reflects a love of beer. Luckily, Pop Chart Lab has you covered. The design outfit has created a number of beer-themed posters over the years (sadly, the scratch-off beer poster is no longer available), and The Magnificent Multitude of Beer is their most awe-inspiring. The 48-inch-by-32-inch poster maps every type of beer style available, including typical ABV and IBU ranges, plus suggested glassware.
Find It: Pop Chart Lab
Growlers offer a great way to bring home a beer that doesn't make its way into cans or bottles, but they're not perfect. Unless you plan to drink all 64 ounces in a single sitting, you're likely to end up with flat beer. Present a solution: The uKeg 64 Pressurized Growler uses a CO2 cartridge to ensure that the last pour from this growler is as lively as the first, and its custom tap makes it easy to pour one out.
Find It: Amazon
Beer lovers can be a little obsessive about their passion, and if you're shopping for someone who's thirsty for knowledge, there's no better place to start than this comprehensive reference. Edited by Brooklyn Brewery brewmaster Garrett Oliver, the Oxford Companion crams an incredible amount of information about beer culture, history, styles, brewing methodologies, and more into 900 pages. Even the most well-versed know-it-all will learn something from this text. And if you're shopping for a beer-loving foodie, Oliver's classic book The Brewmaster's Table: Discovering the Pleasures of Real Beer with Real Food makes an excellent gift, too.
Find It: Amazon
Brewers keep making more intricate and beautiful bottle caps, and it's a shame to just chuck that art into the trash each time you pop a bottle. If your giftee is trying to drink their way through all 50 states, this fun wooden map helps them keep track of progress while preserving standout caps.
Find It: Uncommon Goods
Pouring a beer into a glass enhances the whole sensory experience each sip offers. By allowing the user to better see and smell what they're drinking, the glass is a valuable aid in fully enjoying each brew. And since different shapes of glasses suit different styles of beer, a beer geek's glassware collection can never be too large. While there's a dizzying variety of cool brewery-branded glassware on the market, this six-piece set from Libbey covers all the bases and enables your favorite beer geek to sip everything from dense Russian imperial stouts to refreshing German hefeweizens. Plus, at just $31, it's a steal.
Find It: Amazon
With a little know-how and the right recipe, home brewers can make beers that rival the offerings of their commercial counterparts. If someone on your list wants to dip their toe into the home brewing waters, Brooklyn Brew Shop offers kits that come with almost everything they'll need to make a gallon of beer. With styles ranging from Everyday IPA to Chocolate Maple Porter to Jalapeño Saison, there's something for everyone.
Find It: Amazon
For a number of reasons, it can be hard to enjoy a delicious, hoppy IPA whenever you want one. Enter the next best thing: catching a pleasant whiff of brew. Swag Brewery crafts soaps made with real beer. Available in nine varieties—including oatmeal stout, IPA, and Belgian witbier—these soaps will finally give you even more reason to wash your hands.
Find It: Amazon
Drinking from a pewter tankard is a great way to add a colonial-grog-house vibe to an evening, but it's not always practical. Das Can-In-Stein changes that. Your loved one just needs to slip their favorite 12-ounce can into the frame and enjoy. (For a more DIY vibe, KegWorks also makes plastic clip-on handles that will turn any beer bottle or can into its own stein.)
Find It: Amazon, MyToyTruck, or the retailers below:
Traveling with a six-pack can be tricky. You want to be inconspicuous, but you've got that bulky shape and bottles inevitably jingling together conspiring to blow your cover. Help a brew-loving buddy out. This padded briefcase securely holds a six-pack of standard 12-ounce bottles, enabling them to safely transport suds from point A to point B—all while feeling just a little bit like a secret agent.
Find It: Walmart, HomeWetBar, or the retailers below:
Downing an entire 22-ounce bomber of a boozy imperial stout or double IPA in a single sitting can be a delicious but questionable decision. With Westmark's clever bottle opener, saving part of the bottle for the next day is a little easier. The Hermetus opener pops caps like normal, but once your giftee is ready to call it quits, it slides across the top of the bottle to form a tight, bubble-preserving seal.
Find It: Amazon
Don't overthink this. If you're shopping for a beer lover, you can't go wrong by simply getting them what you know they love—beer. Craft Beer Club takes the guesswork out of choosing the right brew by sending out 12 or 24 bottles of craft beer (in four different styles) with each shipment. You can choose from monthly, every-other-month, or quarterly packages.
Find it: Craft Beer Club
Mental Floss has affiliate relationships with certain retailers and may receive a small percentage of any sale. But we choose all products independently and only get commission on items you buy and don't return, so we're only happy if you're happy. Thanks for helping us pay the bills!